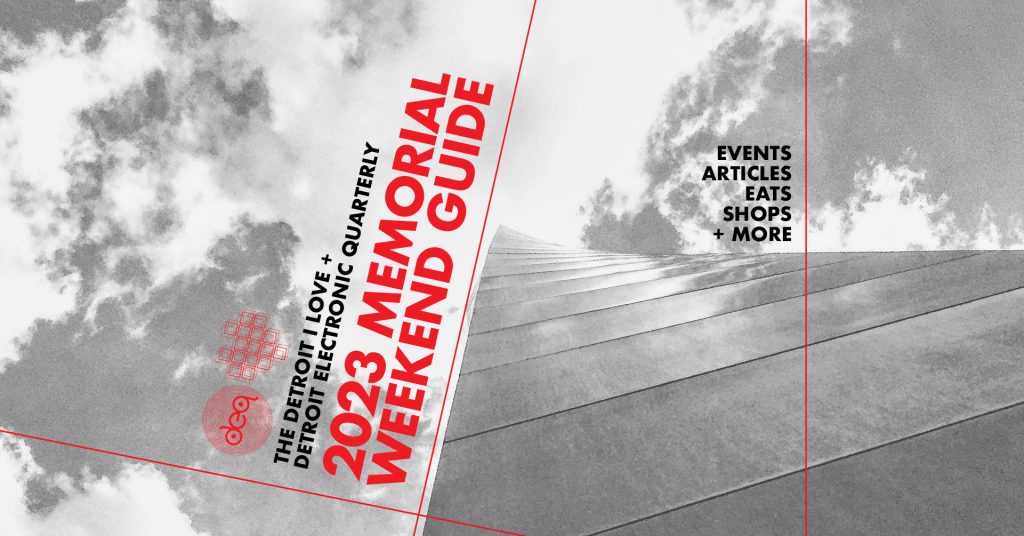 Brought to you by Detroit Electronic Quarterly and The Detroit I Love
---
SECTIONS : EVENTS : NEIGHBORHOODS : ARTICLES
WHAT IS DETROIT?
What defines our city is complicated. People who have never been here don't understand how loving, unique, and special our city is. At 139 square miles, Detroit is larger than most major cities. Every square mile is filled with cultural diversity, with opportunity.

The history of Detroit has and continues to define the music, art, and culture that is created here. What is produced here reverberates around the world, just as the sound of the festival and parties over Memorial Weekend inspires and resonates with everyone that lives here, and those who are visiting.

We have fallen and then came back stronger. The opportunity to share what we build, and who we are, over this weekend will add to the definition of our city. Detroit is messy, it is divine, it is rhythm, it is tough, it is beautiful, and it is you.
Our curated list of events happening around Detroit during the weekend. We continually update this list with venue changes, sold out status, and last minute additions so be sure to check back before you go out.
Explore Events →
We've selected our favorite places to eat, drink, shop, and more in Detroit's neighborhoods. Experience the Detroit we love while you are in town. We no doubt have missed a few, our city is changing so fast. Please let us know if there is a favorite place of yours that should be included.
Explore Neighborhoods →
Articles about Jeffrey Sfire, Haute to Death, and more. We will also be publishing additional articles beyond what is in the printed guide throughout the weekend.
Edited by Vince Patricola and Steven Reaume.
Make it a great weekend and dance your ass off.