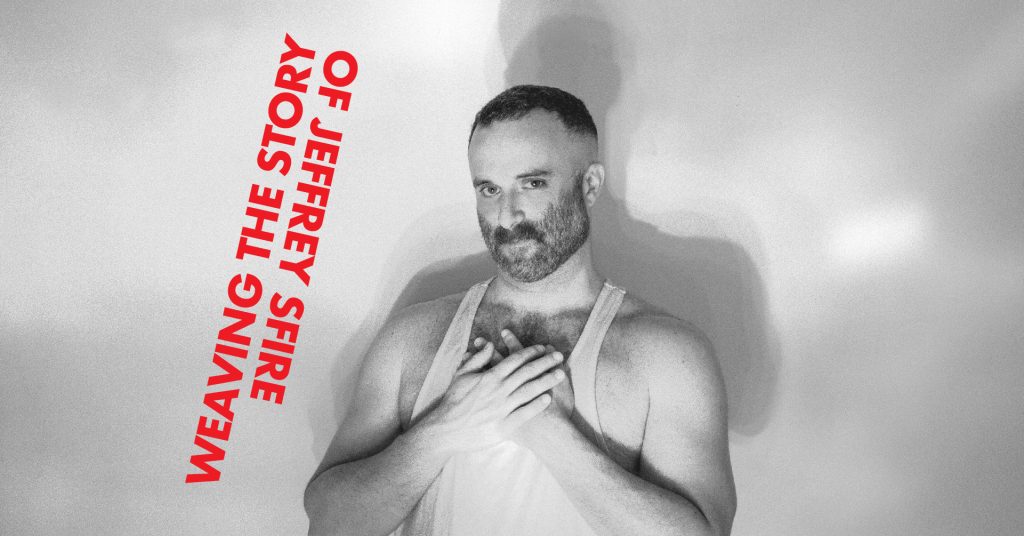 Gearing up for Detroit's Movement Festival is fun whether you are pondering which stages and after-parties you plan to hit or you are performing. The carnival is here, be ready to not sleep and to sweat.
But for seasoned scene veteran, DJ, and producer Jeffrey Sfire, being prepared for the world's biggest, medium and smallest stages is an everyday thing simply because he loves music. The hunger is part of the music journey and that journey is his inner truth, happiness, and livelihood.
Hailing from Detroit's East Side, Sfire has also lived in Chicago, San Francisco, New York City, and Berlin (there are probably more places I'm sure.) Not just visiting, but living in these music meccas helped him hone in his fondness for mostly Italo disco, Chicago house, Latin freestyle, early 90s house, and new tracks that encapsulate those styles.
The love began though in Detroit. Seeing the giants of electronic music on a regular basis, digging for records in Detroit, and playing in the early days alongside the likes of DJs Carlos Souffront, Derek Plaslaiko, and Patrick Russell (to name a few.)
"The taste level in Detroit is so high," he said. "There's so much music to be exposed to and good stuff everywhere so it was easier in a way. You don't have to hunt as hard."
One of his most important goals early on was to find his own niche as each of his music peers firmly held theirs. He found it in weaving a story through "genre hopping." As these styles are related to each other, Sfire seamlessly blends them, racing through time while sharing some of his life's finds over the loudspeakers to joyous, outstretched hands, hearts, and minds. He also cites the genre-bending mix shows both in Detroit (like on WJLB) and WBMX in Chicago back in the day. "I thought with all the different styles I know, I'd like to do that also in my sets."
The road, he admitted, was not easy being a shy kid. However, he always felt comfortable in a nightclub setting. Upon making the decision to become a DJ, he knew he had a lot to learn before started playing in front of audiences. He practiced every day in his parents' basement. "I learned to watch (the right) people, be humble and pay attention." People invited him to hop on the decks in a very friendly manner, but he wanted to wait and learn first.
A huge growth moment came upon hearing the album by I-F called Fucking Consumer. "It raised the bar as to how music could make me feel… Then I started hearing all of his Italo disco mixes. I recognize it as being pretty gay music. That really spoke to me. I also started hearing the Patrick Cowley stuff. And Sylvester. And I'm like… okay. This is me. I was one of the only gay people in our rave friend crew…so I connected with that."
I asked if he ever felt intimidated (being a newcomer to the scene.) "I felt that dance music and club culture are queer in nature… so I felt like this is my culture… I took comfort in that… I felt that raves are where gay people are accepted, even though the Detroit scene can be so homophobic… People can come here to get away from their everyday life to lose themselves in music like I do."
As far as making music, he feels that collaborating is the way to go. "I've been fascinated with old gear and how to make music, but was never super successful on my own… working with better engineers and musicians helps me get my ideas out better."
Sfire's first collaborations were with a friend Sophie in Berlin. She was in a band called Motherland, which made "Prince-esque" songs that, in his opinion, were too short and he suggested making extended mixes for DJs."Sfire 1" (2013) was one of those edits. They teamed up on a few more cuts and remixes on Cocktail d'Amore Music, Ultramajic, [Emotional] Especial, and Muting the Noise labels. He also linked up with Ian Clark to form the duo Lookie Lookie. In 2017 they released the 4 track EP Flamingo Boots on the Dark Entries label.
The main project on the production horizon will be a compilation of music he put out with Sophie plus additional unreleased material. His main focus is DJing and getting his legs back from pandemic stagnation. Be on the lookout also for events he will curate that have more intention (drawing inspiration from David Mancuso's Loft parties) and attention to details like decorating, lighting, and longer DJ sets where he and his guests can stretch musically.
As we anticipate Sfire's more solo party projects, there is no doubt event collaborations will be in full swing as well. He is long synonymous with DJs Mike Trombley and Scott Zacharias who tag team on the long-running, legendary Macho City parties and the Queer Movement after-party that's been going on for 6+ years at Menjos called Club Toilet with Jen Howe. He has also thrown events with partners Aaron Clark from Honcho in Pittsburgh, Ryan Smith of Wrecked NYC, and Chris Cruse of Spotlight Los Angeles. 
His home base is back in Detroit (and has been for the past nine years), but he continues to tour for long stretches of time. One thing he truly cherishes is the special feeling when DJs play a big event in their hometown. "There's NOTHING like hearing Theo Parrish, or almost any famous local, play at home. It is way cooler than hearing them somewhere else. It just feels more genuine. They know that people are connecting here in a more real way. It's Detroit."
Movement 2023 is here. Connections, spirit, and heart felt home team sets will be abundant. Sfire carries the D flag with enormous pride and will eternally remain true to his craft. He is proof that with great teachers, hard work, and the right surroundings you can truly fulfill your vision. You can enjoy climbing the mountain with no top in sight and find something new around every turn. The truth.
Follow Jeffrey: IG, Soundcloud, Resident Advisor: @jeffreysfire